As a club, we own two gliders which are nicknamed by their competition number (the letters and numbers on the tail); NU and NU2.
NU2 – Grob 103 Twin II Acro
The G103 Twin II Acro, or simply 'Acro', is a 2 seat basic training glider that is also capable of simple aerobatics. We purchased the Acro in December 2006 as a replacement for our old K13, 'HPE', which we eventually sold to Dumfries & District Gliding Club in January 2008. The Acro is of a fibreglass construction rather than the wood and fabric of the K13, giving it a higher performance in a straight glide.
A lot of pilots have their first solo in the Acro, and of a lot of others will experience their first flights or lessons in it.
NU – Grob Astir CS 77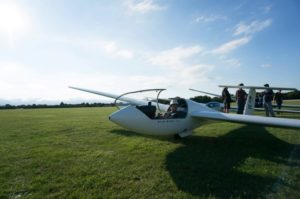 The Astir CS 77 was released in 1977 as a followup of the successful Astir CS, which was one of the first fibreglass gliders in production. The CS 77 has a new fuselage and cockpit design, and improves on some other areas of the CS, such as the tailplane fitting.
It is a basic single seat aircraft which is easy to fly, yet has a reasonably high performance allowing it to go on much longer cross country flights. It has a retractable wheel & powerful airbrakes to assist with an easy landing, although it does have a tendency to bounce if it is landed at too high a speed!
NU is kitted out with the same navigation instruments as NU2, which enables an easy transition from one to the other, and is suitable for entering into competitions, such as the National Juniors. Members can fly the Astir once they have enough experience, usually 30 or more solo flights and plenty of experience in a fibreglass 2 seat glider such as the Acro.
Cranwell Gliding Club's Fleet
Cranwell Gliding Club has an extensive fleet which our members are welcome to use. Their fleet includes two K21s (R18 and R21), which are two seat training gliders, similar in performance to the Acro. They also have a Duo Discus (R2), Discus (R39), Astir CS (R57), LS8-18 (R4), Turbo-Falke motor-glider (G-SACN).
The use of Cranwell's fleet is subject to their own soaring prices (which are very reasonable). You should expect to do a significant amount of your training with their fleet, so do not be put off if your bill is £1-2 more than you expected. You can read more about Cranwell's fleet and prices on their website.